Thank you to Chase Sapphire for sponsoring this post. And of course, I used my Chase Sapphire Reserve on all the below dining purchases to earn 3x points per dollar spent.
Illustrations by Ellen Li

I'd never really felt like I was missing out for never having learned how to ski. That is, until I went to Park City for the Sundance Film Festival. It felt like from almost any vantage point in town, I could see skiers swooshing down with élan on the perfect fluffy snowy slopes. All the après ski activities (that I did anyway sans ski) didn't feel quite as satisfying not having "worked" for it.
Luckily, Park City has plenty else to offer for the skiing challenged like myself. For one, as you'd imagine, the surrounding landscape is beautiful and there is no shortage of fresh crisp air for us big city dwellers. There's also fantastic food and drink — I did the very hard dirty work of eating my way through Park City for four days and have shared an abridged list of my favorites below (here's also a fun video to set the tone).
For a classic breakfast and to avoid the chaos of Main Street, Powder at the Waldorf Astoria is a sound option. I loved the pancakes and bacon alike, which satisfied my cravings for both sweet and savory. Why choose if you can get both?
I never travel anywhere without researching coffee options. I found Pink Elephant to be right up my alley — it's a local roaster that sources high quality single-origin coffees, and they also have a small cafe on the second floor of a boutique shop on Main Street. This is surely the place to go for pour overs and properly made cappuccinos. And if coffee isn't your cup of tea, they've also partnered with Land Juicery, so you can refresh with a tasty cold pressed juice instead. If you're in Park City for Sundance be sure to head down the street from Pink Elephant to check out Chase Sapphire on Main, one of the biggest and busiest houses of the festival.
Don't let the long lines deter you — you can't leave Park City without having lunch (or breakfast) at Harvest, an Aussie cafe serving fresh and healthful options that still feel homey and comforting. Which is really the best combination, especially when you want to take a break from all the heavy "mountain" food. It's featured on the Sapphire Six guide as a Chase Sapphire cardmember favorite and the coffee here passes my barometer as well!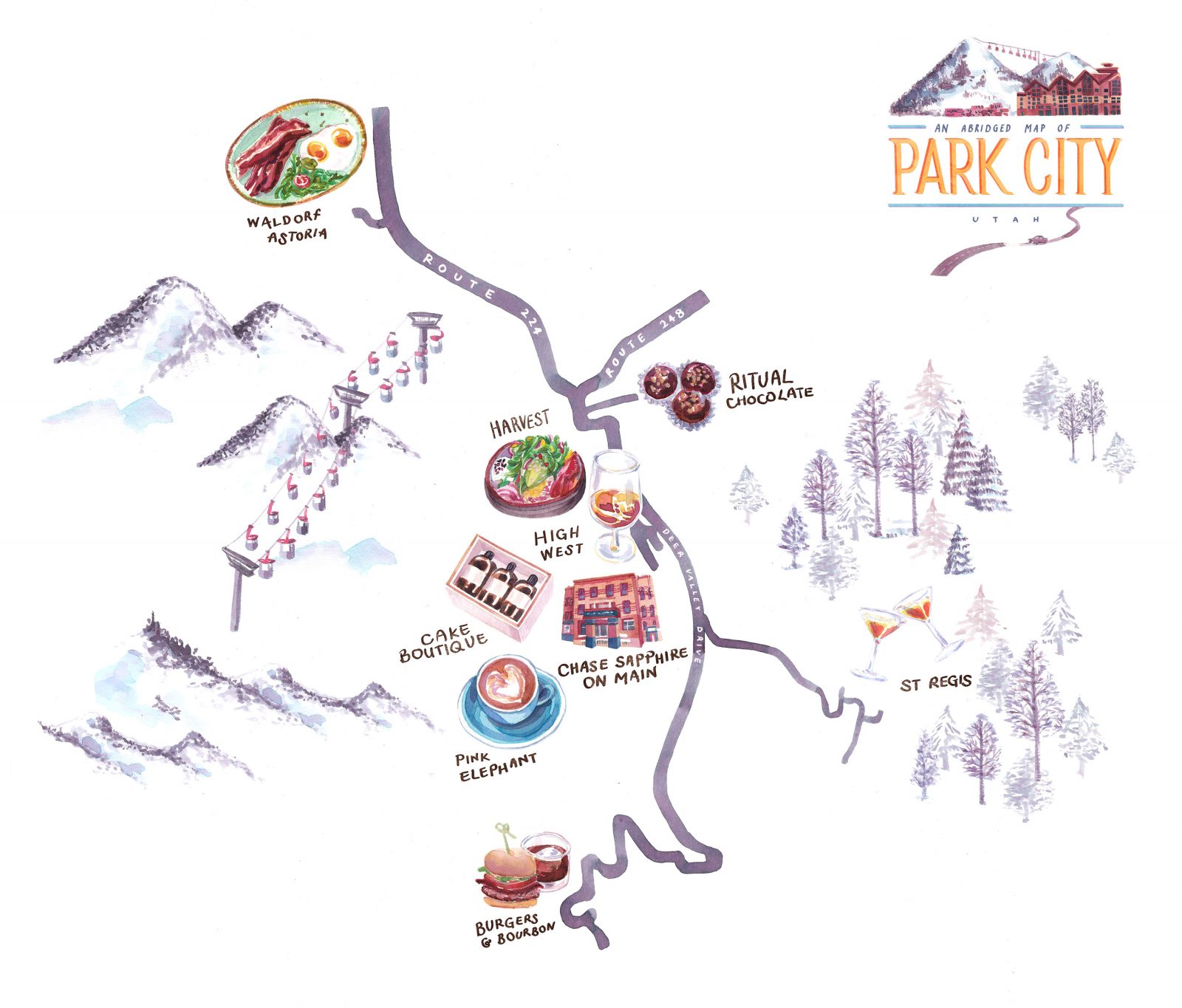 The alcohol laws in Utah are still a bit foreign to me, but the good news is that you can still drink some tasty whiskey as early as noon. At High West Saloon, you can literally ski-in, taste whiskey and indulge in hearty bar fare, and then ski-out (though, good luck with that). They've opened a larger distillery a bit of a drive away from Park City, but this location used to be the original for all their production.
For an afternoon pick-me-up, head to Ritual Chocolate, a crafter of small batch, bean-to-bar chocolate. At their cafe, they offer samples of almost all the chocolate they're selling by the bar, and they make a pretty ridiculous "Campfire" hot chocolate with all the fix-ins for s'mores. Besides their chocolate offerings, their coffee and chocolate chip cookies are not to be missed either.
Now, to digest all of the above and whet your appetite for dinner, head to the bar at the St. Regis hotel for a sunset champagne by the toasty outdoor fire. A bottle is sabred every evening just around sunset and if you're a hotel guest, you get a complimentary glass. There's also a short but fun funicular ride to take you from the lobby to the hotel and bar that offers some pretty majestic views of Deer Valley.
After champagne, it only makes sense to eat delicious burgers and fries, which you can do at Burgers & Bourbon at The Montage in Deer Valley. Sometimes, a classic cheeseburger with no frills hits a spot you didn't even know needed to be hit. I don't often speak so highly of burgers, but oof, this is a good one, friends. This spot also made it onto Chase's Sapphire Six Guide to Park City, a list built off Chase Sapphire cardmembers favorite local destinations. Check out the full list for additional hot spots to visit during your next trip to Park City.